yaaaaaaaaay!
Went to kbox again~ Hahahahaha. I know im going there non-stop la. I saw Gwendolyn there! Yan, Gwen leh! How come everyone's working at Kbox? First Wimpy and now Gwen~ Went there with Hiyu jie, she's late~ hahaha/ K la, dun bully her lata *cough cough* YX come kill me. We weren't that high la, until last song. Yes i love you~ WOO! Really ah, dunnoe what kbox doing.... Bu xiang zhang da and Super model mixed up! Erh...
We went to cafe cartel agter tt, heh, the whole day spent talking and eating and eating and eating. From grilled chicken to zi ca! Wahha. So....... erh. I dunnoe. Before we went for zi ca we took some pics, Hiyu jie looked like she's manipped into the pic lo, using photoshop. She look like commercial board.!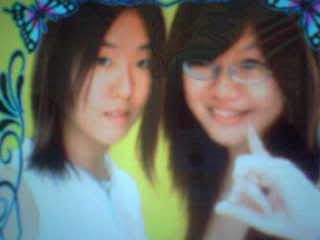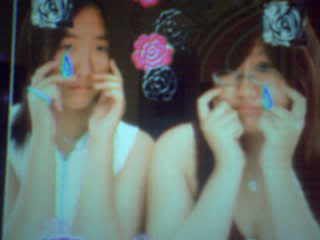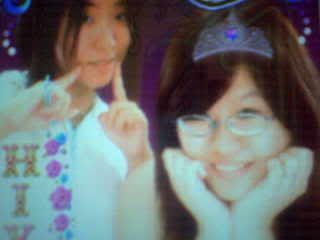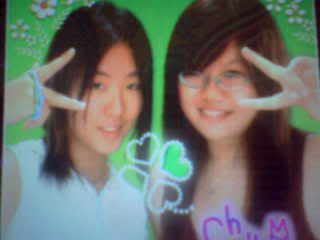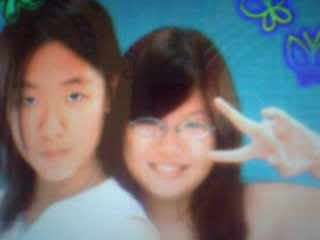 I shall scan the next time, cuz this one is taken directly from the deco screen of the machine wahhaas~
Zi ca we ordered too much~ CAnnot finish, so called for yi xiang, help help help eat! Lolz... After that walked around, heard a cat's cry, but cannot find the cat. At least i din... Around 8 we walked in a shop that sells silver jewels. I erh... After much hesitation, bought a ring for ze *runs away* It cost 25bucks lo. Don't bear to give him le. The sales girl ah, said so mani things make me and hiyu jie laugh.
Q: "For your friend? Guy? Your bf?"
A: "Errrrrr.... *hiyu jie: yes!*"
Q: "If the ring cannot fit his hand you can come back and change."
A: "Errr... I don't think it's possible, how? Send to taiwan send it back?! *Hiyu jie and i start laughing*"
Right. I don't want to giv it to him le la, so nice HAHAHAHA. For my hand juz nice. Wasted ahahaha. Im crazie ignore me. I've been saying weird things.
Work tomolo! ^^
Gambatte~