I think this is a pretty good cover on Wondergirl's Nobody.
And erh, that uncle is....
Erh.
Spontaneous.
and super addicted to NOW by Wondergirls!
Nothing, just bored.
And Intestinal Flu.
Half half, I guess.
But because of this MC, I got to spend more time with baby.
=)
I was at his place in the afternoon after buying lunch for him.
Went to Clementi to get more pufferfishes.
Watched baby clean his fish tanks and change the water inside.
Me? I just walk in and out telling his Mum to turn on or off the watertap.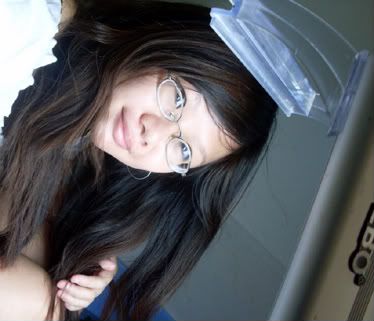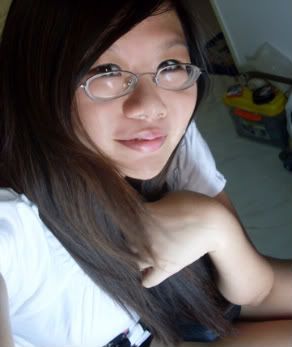 Playing with the fish lamps hahahaha.
Super bright and makes the skin flawless.
Hohoho.
Baby spent a really long time finishing up the tanks,
and then he started to clean his room.
I think I have a potential husband HAHA~
Had dinner at my place,
Parent bought food so we watched TV and ate.
Baby said he felt like we're already married and living together.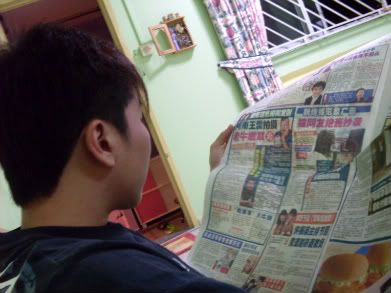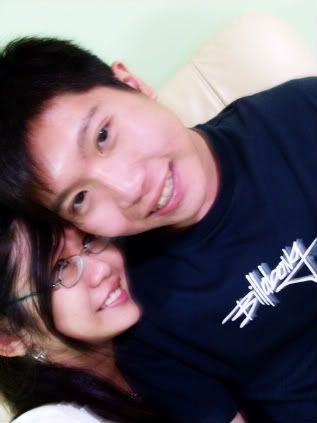 Going back to work.
=\
I missed my baby already.
Report:
The three humans in the picture, namely ODL, Jelly & Leaking have something in common right now.
Guess what?
We're all SICK!
Literally, not sick in the mind or whatever.
Leaking's been having fever and she vomited so much, she is on her 7th day MC & is 4kg lighter.
Jeslene's been having an unbeatable fever that lasted her for 5 days, and is on her 4th day mc.
(And she's darn guilty to start work for a few days and fall sick for so long)
Sky's been having fever as well as aches all around his body and we went to see different doctors at the same time. Sweet not =.=
I WANNA GET WELL!
FEVER GO AWAY!
ARGH!
Sometimes, nothing is everything.
Sometimes, you have nothing at all, but you meant the world to another.
Its just that simple.
Honestly, I tend to see the glass as half empty, and life as difficult.
Until I found someone who sees the world differently.
He created a whole new dimension for me.
And here I am now, satisfied just to have him by my side,
and satisfied to be living in his heart.
I'm lucky.
I MISS YOU LAHHHHHHHHHHHHHHHHHHHHHHHHHHHHHHHHHH!
=(((
First and most irritating, Blogger's new post layout is still screwed up.
Previously, its just jumbled up and the post box just become a small little box at the corner.
Now its back to normal, without the post pictures and stuff.
So I count on Photobucket.
2) I've been spending my time with BF during the weekends, blissfully. XD
BF got pek cek on sat afternoon when I arrived.
Reason?
CAUSE! I said I'm not hungry and I reufused to buy food.
He got pek cek.
O.o
And to cheer him up, I actually went to queue up with all the kiasu Singaporeans to get a free bottle of coke for him!
SEE!
What Love made me do!?
We went to buy pufferfishes!
Cause there's way too many snails in his planted tank.
Yes, they are cute, but when they eat snails...
Whao.
*CRUNCH*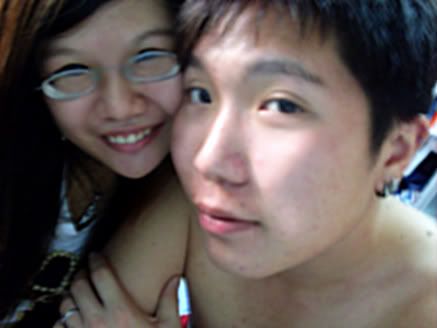 I seriously think I'm pretty afraid of BF.
Its a known fact we're loving and all.
But when it comes to disagreements, we had that stubbornness that refused to give in.
I think insecurities are there to stay until I really get married, to him of course.
Don't care, don't bother!
I'm still crazily in love!
I've been having this splitting headache since Monday night.
Thought it was nothing so I left it there.
On Tues, it was slightly better, all the more I left it alone.
On wed, it was back in full action!
ARGH!
Might be cause I'm wearing mask all day due to my work.
Yesterday was the last straw when I, the temperature screening staff, got a fever of 37.8degrees.
Went to see Doctor Tan and my fever went on to fall and rise.
Headache still around.
=(
But oh well.
Its okay.
Yesterday when BF was sending me home, he even considered piggy backing me home.
Cause I was SO SO giddy!
He said it was rather cute cause when he pushed me lightly, I stumbled 1 metre away from him and I was like:
"Eyyy why you push meeeeee...." then i slowly 'floated' back to his side.
VERY FUNNY MEH!?
Okay, that aside, I fell asleep after medication, and I got awaken by at least 5 calls asking if I'm okay.
So, thank you guys! <3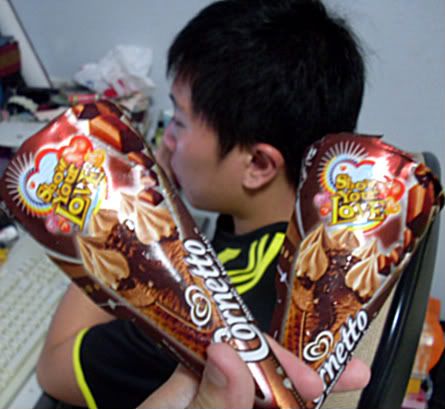 BF at my place, and dad bought ice cream!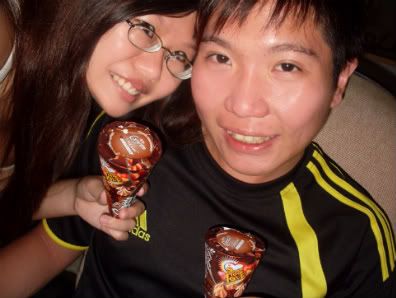 I randomly sang Qi Dai Ai to him hahaha.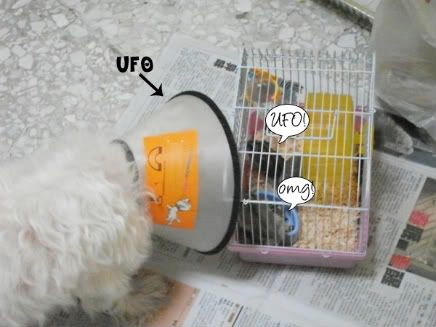 My dog's been scratching and chewing on his leg too much. So my mum and bro turned him into a spacesh-i mean protective helmeted him.
I was changing hamsters' bedding and he came and nosed about.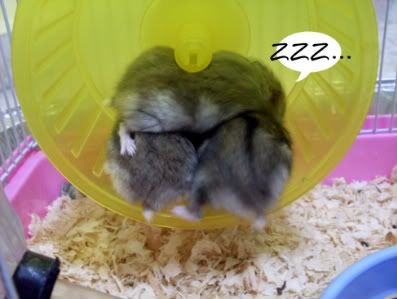 My babies are getting really fat now. Though bf say they are still young.
My mum told me to get another cage soon, in case they give birth again.
Oh well.
And my dog, with a vacuum.
Seriously, do he just like it, or hate it?
XD
Seriously, everything is WRONG these days in Blogger.
Moving on to other topics.
Whining doesn't help.
Gotta love photobucket. Always there when I need it, especially when blogger screws up.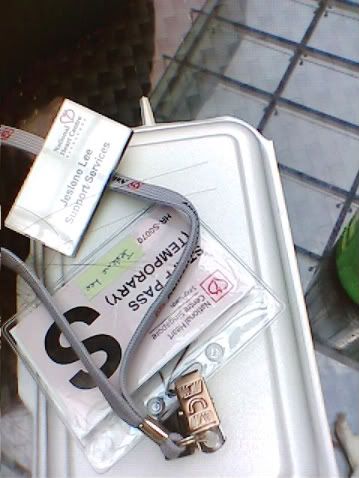 I've started work at SGH, being a multiple jobster.
Honestly, it wasn't all that bad.
Just that I'm still trying to get used to the social environment.
I had this glitch in me.
Realised that I'm not THAT sociable anymore.
Somethings I say, somethings I don't.
Not the new girl that would chirp a reply happily.
Instead I'm just, nodding, smiling, okay okay I got it.
Some people are really rude.
I mean, visitors.
They can be in such a rush, they think temperature taking is a big nuisance, and that YOU'RE the nuisance causing them to slow down.
You want to cross the building without a mask?
Go on.
You tio h1n1, don't blame us.
I'm lucky to have Kailin as lunch companion.
She's working 2 blocks away from me.
Gotta work like 7.30am tomorrow.
I'm serious.
And I'm doing OT till 5.30pm.
Dead much?
I missed ODL terribly.
I really felt like whining to him about myself, the headache that's killing my single brain cell, and such.
I guess that's the case when you have someone you can depend on.
I'm so whiny!
=(
And admittedly, I'm more of high maintenance recently.
Hate it.
--
Mummy & Daddy showed really heavy signs of approving BF, and I'm really glad.
Now they talk about him, like he's one of us and well, that really made me happy =)
I'm starting work tomorrow.
Gotta lose quantity time with BF.
=(
That's the bad thing.
But endurance, Jes!
I'll still see baby 4 days a week!
Randomly, this entry is.
But who cares.
I love my BF!
XD
Oh, when I was on my way to the station in Bugis today, a random modeling agency scout approached me.
Random enough?
This is Ms Lee Li Ying aka Leaking.
She works in the day, and when she doesn't, she is...
PAPARAZZI.
Why do I say so?
Cause she just sent me tons of pictures which i don't remember taking at all!
Like when I went to the zoo with bf...
And I totally forgot we took such a picture.
And when I was having a fist fight with Ms Tong.
And bf looked BLANK.
Of fishing lobsters and catfishes.
Of our catch.
Of me having a very very candid picture .
Of BF peering into the water and me having the 'giving birth leg open big big' position.
Look at my arm muscles haha.
Of a random happy candid.
Of happy homing after fishing.
Of stupid faces, okay, just mine.
And of BF and I at esplanade.
BF had that Okay Jeslene Lee, stop taking pictures let's go let's go.
Beware, her camera is always around you!
Who says couples shouldn't stick too much? Hahaha!
I loved every second of it!
BF was at my place for dinner just now.
He was looking through my pictures.
Stupid comments from him.
BITE!
...
Kns, he BITE me loh.
Literally!
I MISS HIM!
HOHO!
And Bf brought Me and Leaking lobster fishing at Bukit Gombak!
Yes, LOBSTER!
But my lazy baby, despite me calling him to wake, woke up only when I reached Jurong East.
So we traveled to his place instead for lunch =)
Soon after, we set off to Gombak!
BF being the super hero doing all the bait stuff for the ladies.
Where to find sucha good bf?!
*tickles bf's chin*
Its a really nice park!
Lowering the bait to 'caves' and wait for the lobsters to grab.
You can feel the force pulling the bait down, and slowly when you're sure its addicted to the bait, you pull it up then use a net to scoop it.
Eh, both Lekaing and I got wet due to BF's super scooping.
First lobster within 10mins!
And we randomly caught a catfish too.
But we freed it after.
One tank can't hold two catfishes lah.
And bf fished as well.
I love my gf =D
And I love my bf deep deep haha!
He always bring me to weird places for free fun!
In the end we caught 6 Lobsters, 3 baby lobsters, and three fishes.
Which btw, contains a fighting fish I scooped up.
HAHAHA!
Cause I had no beginner's luck!
So I just randomly scoop it up when I saw it hahaha!
Lob lob loooooooooob!
Baby's very pretty tank!
And BF got a new stingray - Motoro!
Named it orh orh aka blackie!
Male hahaha.
And randomly, my hamsters are now nicely fat.
kuuuuuuuuuchi kuchiiii!
Truckloads of peeks.
Sooooooo! Save on the explanations!
BF and I before we took the train to Tampines from his place.
I felt like a Shepard with lost lambs!
Everyone's scattered all around!
And I dislike SGarden's supervisor's face.
All the way black faced.
Come on, its not our fault we've got 10 people and need to coordinate.
You expect us to decide before we know the options?
Boo.
FOOOOOOOOOOOOOOOD!
The birthday girl!
BF's watermelon Ice Kachang.
I had ICE CREAM!
He showed me the international language and he kept stopping me in my yakking by feeding me prawns.
=(
The girls without Leaking, who's taking the picture!
Ching and her watermelon man.
And now with leaking loves!
MY GFS ARE THE LOVE!
My darling bf refuses to smile while eating hahaha.
But when he's full and contented, he does =D
Below is a drama of Leaking and Tong, and 50bucks.
Looks like some illegal trade to me.
Take lah take lah...
Tong looked so.......
Pornstarish?
Do re mii!
Kailin with Tong's lollipop!
The birthday girl and erh, the fat Jeslene.
And tong the penguin!
<3
We surprised her with a birthday cake~
And bf's the lighter fire hero!
This is like, scene with all heros removing the plastic around the cake.
HAPPY 21st Kailin!
Im currently darn tired, full and well, I need sleeeeeeeeeeep!
Older Post | Newer Post