and all are of food.
Lee Jeslene, where are all the humans?
HUH?!
Like I mentioned, I woke up at 8am this morning due to an unexpected sms.
So now, I'm giddy with sleeping spells.
I was looking through certain emails yesterday and I saw this email my ex-stage manager in emage backstage forwarded to me.
Its of a competition for solo vocals, or groups, or composing by NTU.
Seriously, I considered about it but I decided against it.
I have no strength to face competition stress, like before.
Oh well.
You can tell me, just join, for the experience.
Sure, but once you've been through one, you'll dread the next. That's my case.
Tat sin also asked if I want to go for auditions in Ark.
Hmmm.
Perhaps I should, after all, I'm not someone who likes to hide my vocals away.
Without the competition stress, of course.
I'm heading back to Hark Music to listen to the Performing Team's evaluation by Amos.
I hope Amos wouldn't be shock to see Ms oldie Jeslene & carissa.
Somehow
I miss the days when I can just strum my guitar
Just sing
Just play the piano
Enjoying the solo power of my violin
and even just running my fingers through my guzheng.
Now, it seems like everything have to happen for a reason.
--
Blogging in blogspot, 3 years.
I wonder when did I really started blogging.
I guess it was way beyond that 3 years.
I found my first entry in the first blog host, and the year wrote 2002.
Functions grew.
From open diaries, you can make it private,
or just open it to friends, like Livejournal.
There's even this little box you can uncheck to make sure you're not listing in any search engines.
Isn't that the best way to make sure no one makes their way to your blog?
Private it, or risk it being read.
People have their freedom to imagine whatever they read.
I don't know, but I trust online emotions to be true to a certain extent.
Therefore,
read with an open mind, dears.
Think what you want, but make sure you know you're not the author, you do not know what he or she is truly thinking.
I don't know you, stranger.
But I blog hopped.
I found you.
Get out of the house and walk to family clinic for cough syrup - Cost $7
The reason why you have to do this, which is cause you passed your cough & fever virus to your baby - $Priceless.
Oh, guilty as charged.
WOO HOO!
Why are the accessories so cheaaaaaaaaaaap?!
This is on sale, and its like, 1.99CAD, which is like, maybe $2.50?
And this is like for $6?
For the same price...
And H81 dress for 31.90CAD!
Which is like, $40?
I AM JEALOUS!
But Joe is going to get all of them for me!
Yaaaaaaaaaaaaaay!
FREE!
Okay.
Christmas.
You know why I'm still awake?
Cause of that damn Latter Mocha I had in the afternoon in TCC.
=.=
Hate...
Business Law!
GROOOOOOOOOOOWWWWLS!
Long story.
Long long story.
Right now, I'm drained and I'm going to plop on my bed after another shower and mask.
I think I'm very snappy now due to my menses cramps too.
I mean, how would you feel when you have to endure twice in a month =.=
Christmas seems so far away from me due to a certain lecturer's continuous tests and what's not.
Mind you, I have an exam on boxing day itself.
Dates on Christmas?
YOU MUST BE KIDDING ME!
Friends don't come and tell me you have a date for christmas.
I'll scratch you cause I'm jealous.
Extremely overdue pictures:
Which is just food.
Butter toast.
Loath it.
Location?
Bugis street second floor.
Well, so so.
Grilled chicken.
I want subway. =(
And I love my babes loads.
No mood.
So ending here.
I am missing alot of people now.
Ps:
KKK, cheerios okay! <3s
Sick.
And totally growing fungus.
Not cause I'm rotting.
Its more like I feel dead, and I can almost feel the vultures picking on me.
At least he likes that watch.
Even asked me if he can wear two watches on both wrists.
*Sits at one corner and water all her fungus*
I feel like tamaki.
Glooms.
But that's coz I'm really, really tired and busy these days (which counts from Sunday till now)
More like lethargic.
I think I sense myself falling sick too.
And I had some dust rash out of nowhere too.
Sighs.
I was so determined to sing I belted out the highest note ever - in perfect pitch.
ROOOOOOOOOOOOOOOOOAR!
So proud of myself *beams*
I hate meetings.
They kill my brain cells.
Been sometime since I had one and I kept wanting to fall asleep.
So now I'm tired.
With Bestie's Sis - Leaking hoho.
That top I'm wearing costs 3bucks and the shorts is like 5bucks.
HAHAHAHA.
Cheapo jes.
But its comfy lah.
And some vanity.
I haven't been vain for a long long time okay.
Let me be lah.
Big Aunt brought faceshop masks from Korea for me.
Its cheaper, according to Tong.
I tried one last night and it works great.
Yay.
erh.
Okay.
Erh..
HAPPY BIRTHDAY XUE!
<333
Sorrie I couldn't make it today.
But loads of love still okay!
I love my bestie hubby 三七二十一燕.


I bought a watch for baby, and since he would never come online, it'll still be a surprise. Its black cause I messaged him today and asked him red or black.


Tampines pasar malam is selling the ribbon belt for 8bucks, instead of town's 12bucks. And hui, if you still want that block skirt, its 10bucks now.


I saw a cute guy on the train and we kept bioh-ing each other while talking to our friends. How interesting.


I miss that blondie so much I feel like stalking him - which I didn't.


I miss my babes in school.


I wrote an entry in Livejournal - which is friends only - about a certain someone who I am pissed with. One after another, how ridiculous his 'love' is.


I am pretty moody, but I'm going to Kbox to sing it out. Gosh, just pass me the mic would you?


The end.
And before my blog start to appear monotonous:
Oh look, its a christmas tree in Taka!
Look closer!
Fluffy teddies!
Apicy soup base Beef Shabu shabu nabe (cough, which means pot, not you know...) in Century square.
Big enough to share with bestie...
FIRE!
Happy belated to my dear Tat Sin, who gave me a super tired look today.
Your tomodachi here is half alive too.
This sudden emotion is making me feel like shit.
Help.
Whether good or bad, I believe things are meant to happen in their own way.
Decisions or not, the way your life changes with it is undeniable.
I made my choice last night.
And you accepted it wholeheartedly.
Instead of that disappointed face you could imprint in my mind before you left, you gave me a hug and left me with words that touched my heart.
My friends always say, my life is such a drama.
How I met you was rather dramatic, and how we went on was pretty much an idol drama sequence.
Not to mention the him I love after we parted ways.
Equally as dramatic.
If chemistry attracted me to him,
for you I'm certain the chemistry we developed late after was as strong, if not stronger.
I'm glad the bond we had did not fall apart.
我想我会永远喜欢你。
即使是短暂的拥有
但永恒抹不掉快乐的烙印。
Love can be in anyway.
It doesn't have to be a relationship.
Being able to accept it as concern in exchange,
why not?
当爱情升华成为关心
你会明白
快乐为主
这时频率就会一致了
对吧?
--
PS: I love my baby.
Don't worry I'm okay.
Just that my mood wasn't in top condition and honestly, it was quite bad.
But I'm okay now, and like what Kathy said, at least I can crap now.
=)
Thanks for all the concerns showered on me!
And photos to summarize the whole time I didn't update!
Mummy's Birthday:
We went to this la mian place in Century Square basement for dinner.
Glad that my family loved it.
Bill came up to 68bucks, which is actually quite cheap for 4.
Pork slices - cold.
I knew my dad & bro would love this.
Carnivores.
XIAO LONG BAO!
*Nudges huihui*
Bugis & Town with Serena!
Vainpot Jes.
I <3 this girl! We heard some people singing at the stage in Heeren. And I went to check it out, cause singing is my territory.
And I realised those singers were from Campus Superstar.
And to be really honest...
At least they were on pitch...
But I couldn't comment more on their singing, cause it was pretty....
Let's just say, inexperienced.
Bugis with zaza & Steven!
Zaza & I had a great time gossiping & staring at cute malay guys. HAHAHA.
Think she's my malay guys spotter. COUGH.
Yes I know za's eyes are like super big.
SO BIG!
I WANT!
Dinner at Ministry of Food in Bugis Junction!
Steven's treat! Thanks!
And this is my cha siew ramen in cream pork soup.
Not too bad.
SASHIMI!
*screams at Hui & Hiyu jie*
Steven treated me to Topone after that.
Thank ah!
Winson's Birthday:
I went down to Shenton cause it was Winson's birthday and we celebrated it during lunch!
Baby was super early today so I went out earlier than usual to meet him.
And instead of me waiting for him, this time is the other way round.
Ohoh, I had a dream yesterday and its of him.
I told him and he asked about it and I said:
"I dreamt that you have alot of women outside!!"
(really leh. I dreamt of that loh)
He gave me a stunned look.
"WHERE GOT!"
Then gave me a big big kiss. HAHA.
Went up to office and they were having alot of food for lunch!
HAHA!
Let pictures talk!
Adeline giving the presents to Winson.
We all say Adeline's the chairman presenting token of appreciation to Winson.
Adeline: Aye you all quickly take leh! He take advantage of me to hold my hand leh~
HAHA.
50years old - Winson, not the cake. lol.
Winson, the cake, and the christmas tree!
OHOH! Capitaland's Dinner & Dance's theme is SHANGHAI NIGHT!
Cheong Sam!
Cutting cake with Auntie!
Fruitcake =)
Winson opening present...
And realised it was a Bingo toy!
Purpose of it?
To pick out 4D & TOTO numbers lah!
HAHA!
And with Kailin, in the office once again.
I miss my Capitaland people man!
LOVE THEM TO LITTLE BITS!
<3
--
And once again thanks to everyone who thought I would die.
Especially my babes, my babies and my b.
<3!
Somehow, at the back of my mind, I had this thought to be back with him.
But its impossible.
I was so insecure with myself, and for the first time, I was uncomfortable with him.
But...
I guess I did make the right choice.
I found my assurance in baby's arms today.
And I knew I should let ze be someone who lives as someone important - in the past.
I dropped the card on her makeup table that she will sure look at every morning.
She said she loved it.
And that she loves me.
<3
& also
Ah ma loves you two loads loads okay!
--
I'm currently like what my FB status & my msn nick is - In a total blank.
My Greatgrand Ma has passed on this morning.
On my mum's birthday itself.
I asked mum, how dinner still wanna eat.
She say see how, if can continue, if not postpone.
Asked her if she's okay.
She say ya she is, cause its not like popo who passed on not cause of age.
Sighs.
I hope GGM is in a better place right now.
So many things, on a single day.
=(
I wonder why I'm so so tired today.
What's good today is lovesloves my babes in school.
And I had a super good hair day!
Marketing lesson was fun - Better than Law i guess?
After lessons, we accompanied Vaalvaal to Plaza Sing, and I got a card for Mummy.
Its her birthday tomorrow!
Kel drove to Singapore Expo, and we went to Food fair.
Woohoo!
Thanks Kathykatiekate who sponsored me $$ to buy stuff =D
Stupid Jeslene forgot to bring her wallet hahaha.
Photos!
My prettiest babes <3
With Sharon!
On Kel's car, with Kathy's duckduck.
The duckies make sure I'm not lonely in the backseat as Kate & Kel lovingly conversation in front. HAHA.
I saw them kiss kiss at the food fair! *BLUSHES*
Christmas is coming.
Heng I'm not the real reindeer.
I think I will seh in the middle of nowhere, and leave santa to die somewhere cause of his useless reindeer.
And to prove my super good hairday.
I love my hair =D
I can't hide anymore.
From him I couldn't anyway.
I wonder would it still feel the same, its been 1 year since we left each other.
Tomorrow, shall be the answer.
Discussing with hui about men with motives and well, kinda true.
Of course I'm not saying ALL men have motives.
Women too have motives.
Just like what Xinyun jie said: Seems like its not 'innocent till proven guilty, but guilty till proven innocent."
Yesterday I went all the way to Douby Gouht, Regency Centre to collect Y2J (神木与瞳)'s Sat live band showcase tickets.
Yes, as you people know I did not appear for lessons.
I was really down due to my greatgrand ma's case.
I can just rot in Tampines, its enough for me to rot you know.
But I went all the way there cause its the deadline and SOMEONE wants the tickets as I couldn't make it on Sat.
I didn't go alone, I dragged bestie with me.
SHE can jolly well stay with me and rot in tamp also you know.
But this person,
he flew me twice a kite.
AND!
He promise to meet me yesterday for the tickets!
But apparently, someone dropped by his house and instead of telling the visitor I have an appointment at 5pm, he dragged MY appointment for a sudden visitor!
AND HE DIDN'T APPEAR!
And I asked if he still wants the tickets,
NO ANSWER!
WONDERFUL!
I was being canceled without prior notice!
WTH?
Miss me and whatever?
Bullshit lah.
I'm someone who is okay with canceling of dates/appointments.
But with prior notice lah!
IRRITATING LAH!
Haha.
Last year, I wouldn't care much about rain,
the most I'll whine about not being able to go out in peace and blah.
But well, everytime I see rain, I'll message him to becareful.
I must be irritating, cause he'll usually just reply 'k' or just don't reply.
Haha, but since he insisted I wasn't, I shall just continue to shower my 'concern' on him.
And the way KaiLin described him today was pretty... entertaining.
She told me she saw him in the office.
And that "he came in and load the cartons and went off very quickly, like wind like that."
The thing is: I CAN IMAGINE!
HAHA!
He'll only take his time if I'm the one who's doing the paperworks. HAHA.
Anyway,
I had a giddyspell yet again.
And I just got to know from my mum that my great grandma is in critical condition again.
They are now nian-jinging for her, for 12 hours before she departs.
Actually we don't know for sure if she will leave yet...
But hais.
I'm pretty numb to death now.
That's BAD.
But that dreadful feeling still kills.
Sighs.
Met the gang up at bugis before having lunch together, which I snatched a few bites from Vaalvaal & ah kate in Pasta Mania.
No appetite eh.
Have to admit I was pretty gloomy, hopefully I didn't looked THAT gloomy.
Was at SimLim as vaalvaal was searching for earpiece.
When we went down, we realised one side of the earpiece doesn't work, so we went back up and exchanged.
And down again to search for the rubber plugs.
Some weird handphone guy tried getting my attention but I wasn't paying attention.
HAHA.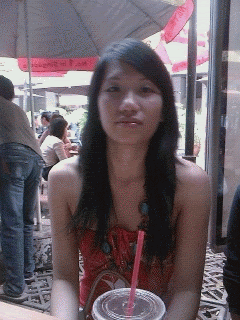 Here a bestie's neck kung fu for entertainment.
=)
After slacking the whole of my 'holidays' away, its a brand new start with brand new modules!
I'm taking up Business Law & Principles of Marketing & Production Management.
Pretty excited, cause I've always held interest for both Law & Marketing.
Hopefully the little knowledge that I gained during ITE for Marketing helps haha.
Anyway, after that screaming entry from this morning (about my dog yes.)
I woke up like, 10plus due to Kai Lin's sms, and thank goodness she woke me up, I slept through my alarm!
For some reasons I kept missing messages & calls, even with my phone in my hands 24/7.
But anyway, as some of my darls know, I headed to Shenton for lunch with Kai Lin.
And to meet Blondie of course.
Oh, some of my friends already knew the reason why I flared up yesterday.
He didn't reply any of my smses since morning and I was darn worried something would happen to him and blah.
After all his job requires him to carry heavy stuff and drive around,
and it was raining hard yesterday, so I was like thinking, man did something happened to him?
Apparently, after much worrying, and thanks to Hui & Steven for crapping with me to calm me, I realised the reason behind it.
....
I checked and I happened to see...
His prepaid card left like...
2 cents.
NO WONDER LAAAAAAAAAH!
And so, after the card was topped up, he finally msged me to apologize.
ROAR.
So today there's no sweet, smiley Mdm Jeslene the crown people use to know.
Roared at him.
But yeah, like I always say, I can never stay too angry at him.
Shrugs.
With coaxing and hugs showered on me, HOW TO STAY ANGRY!
Random stuff:
My mum and one of her children in the childcare she worked in.
She kept trying to grab me into this line but I told her I love peace around me.
Hahaha.
To think my mummy stayed in this line for more than 10 years already.
Was it 13 years? I forgot.
I found this picture in my mum's phone and I HAD to upload it.
This is my baby cousin Issac...
And the person holding him in her arms, is my Grandmother, who passed on in April this year.
I was thinking...
Would Issac know, his grandma had once carried him in her arms lovingly?
Sighs.
My great-grand mother is currently in a bad condition.
She's already 93 years old this year...
We were told to be prepared.
=(
My Popo left, and now my great grand ma is not in a good condition.
There's so many things that happened, I could hardly cope.
Oh btw, complicatedness, my greatgrand ma's not my popo's mum. Just Mother In Law.
My grandfather is still alive, but we, including my mum and uncles aunties, do not address him as a father or grandfather.
Complicated eh.
My mum has some artistic blood in her.
Hahaha.
She did this for the childcare.
As for her daughter, her artistic blood flows with photoshop.
Above is what I did for Huihui, and myself.
Desktop wallpapers.
Haha.
Just wanted to do simple stuff so that the desktop doesn't look so messy.
My parents are lovingly singing duets in the living room now.
I'm not the only one who uses the Karaoke System.
Heeh.
Pretty long entry eh.
I'll leave it here then.
Loves, darlings!
Older Post | Newer Post