This must the most worrying monsoon season ever.
Haha.
Last year, I wouldn't care much about rain,
the most I'll whine about not being able to go out in peace and blah.
But well, everytime I see rain, I'll message him to becareful.
I must be irritating, cause he'll usually just reply 'k' or just don't reply.
Haha, but since he insisted I wasn't, I shall just continue to shower my 'concern' on him.
And the way KaiLin described him today was pretty... entertaining.
She told me she saw him in the office.
And that "he came in and load the cartons and went off very quickly, like wind like that."
The thing is: I CAN IMAGINE!
HAHA!
He'll only take his time if I'm the one who's doing the paperworks. HAHA.
Anyway,
I had a giddyspell yet again.
And I just got to know from my mum that my great grandma is in critical condition again.
They are now nian-jinging for her, for 12 hours before she departs.
Actually we don't know for sure if she will leave yet...
But hais.
I'm pretty numb to death now.
That's BAD.
But that dreadful feeling still kills.
Sighs.
Met the gang up at bugis before having lunch together, which I snatched a few bites from Vaalvaal & ah kate in Pasta Mania.
No appetite eh.
Have to admit I was pretty gloomy, hopefully I didn't looked THAT gloomy.
Was at SimLim as vaalvaal was searching for earpiece.
When we went down, we realised one side of the earpiece doesn't work, so we went back up and exchanged.
And down again to search for the rubber plugs.
Some weird handphone guy tried getting my attention but I wasn't paying attention.
HAHA.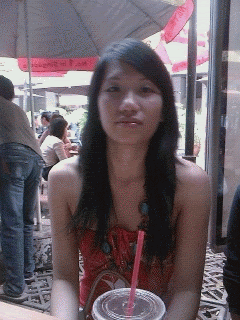 Here a bestie's neck kung fu for entertainment.
=)